2017 NFR Round 2 Barrel Racing Recap
I talked about Amber and Paige in my Round 2 Enewsletter this morning. I'm recapping some of the rounds so if you aren't signed up and want to get them…sign up! 
Ok, can we say REDEMPTION!!??
Amber and Paige came back and took what they left in the pen on Round 1. Amber knocked the third barrel on Thursday night but last night….she was in it to win it! Smooth as silk and fast, fast, fast with a 13.54! Gosh, I just love watching that team. 
After her run she said "I took a deep breath before I came up the alleyway because last night took a little bit of wind out of my sail," Moore said. "I'm very happy for tonight." She also said she made a saddle change, "I had a new saddle," Moore said. "I've had it for about two months and a couple times I felt a little bit uncomfortable in it, and last night was the final, 'Go back to the saddle you've ridden in for the past year.' I think it helped – at least I felt more confident in it." (courtesy of the PRCA)
Confidence is KEY!
Click the banner to view Amber's horse CP Dark Moon's pedigree!
I thought the rest of the girls looked great. Brittany Tonozzi is just on point, she ran Steeley last night and it was a beautiful pattern. She took second with a 13.62. I love the way Brittany brings a horse down the alley. She is such a quiet jockey and she gets so much out of her horses. She is really fun to watch. I'm glad to see her back at the Finals.
I hated to see Stevi Hillman and Sharpie have some trouble but I'm sure they will get it together. I'm curious to see if Stevi will pull out Cuatro Fame (her big bay horse) in the third round. I guess we'll have to wait and see what happens tonight! Regardless, Stevi is an incredible rider and let's get real….it's super early yet for this Finals, a lot can happen!
Ok, who is missing Sherry Cervi? It just seems odd to not see her running down the alley. Every Finals I have been too, she has been there. So if you're missing that tall blond…here is a great interview she did a few years back talking about her horses, her life and the NFR.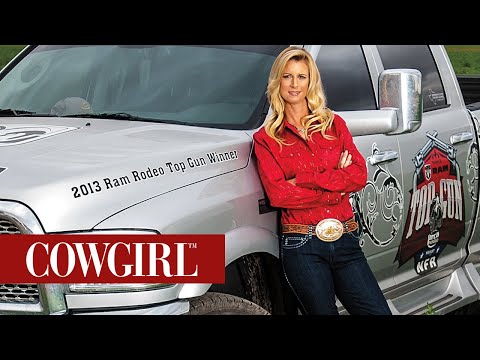 If you haven't seen Round 2, here it is!
What do you think will happen in Round 3? This is for sure a tough race. Brittany laid down a great run last night and I'm sure she is looking to do the same tonight. Also, Lisa Lockhart's horse Louie just gets faster as the Finals goes on…so watch out!